STAVRINOS BROS S.A.: Textile Finishing in Greece since 1948

Our Company is specialized in dyeing and finishing of a wide variety of fabrics on a Commission basis.
Our expertise in processing textiles, is more than 70 years long and provides a unique opportunity for textile manufacturers to process their fabrics in our State of the Art Machinery.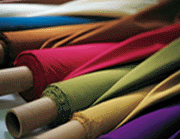 The mission of our Dyeing and Finishing Division is to provide high quality, high reliability, quick response, high fashion and high-tech textiles services.
Quality, Innovation and Creativity are our main goals for satisfied customers.
 Our Dyeing and Finishing plant works only on a commission basis and is one of the few left independent textile-finishing companies.
The protection of the environment and the job securing, are the foremost expressions of social awareness, crucial to the fulfillment of our company goals.